September 23rd 2019 was named "Sensei Viola Day" in Pittsburgh 🥋.
County Executive Rich Fitzgerald enacted the day in honor of the dojo's 50-year anniversary. Congrats.
Pittsburgh Post Gazette Article
Pittsburgh Tribune Review Article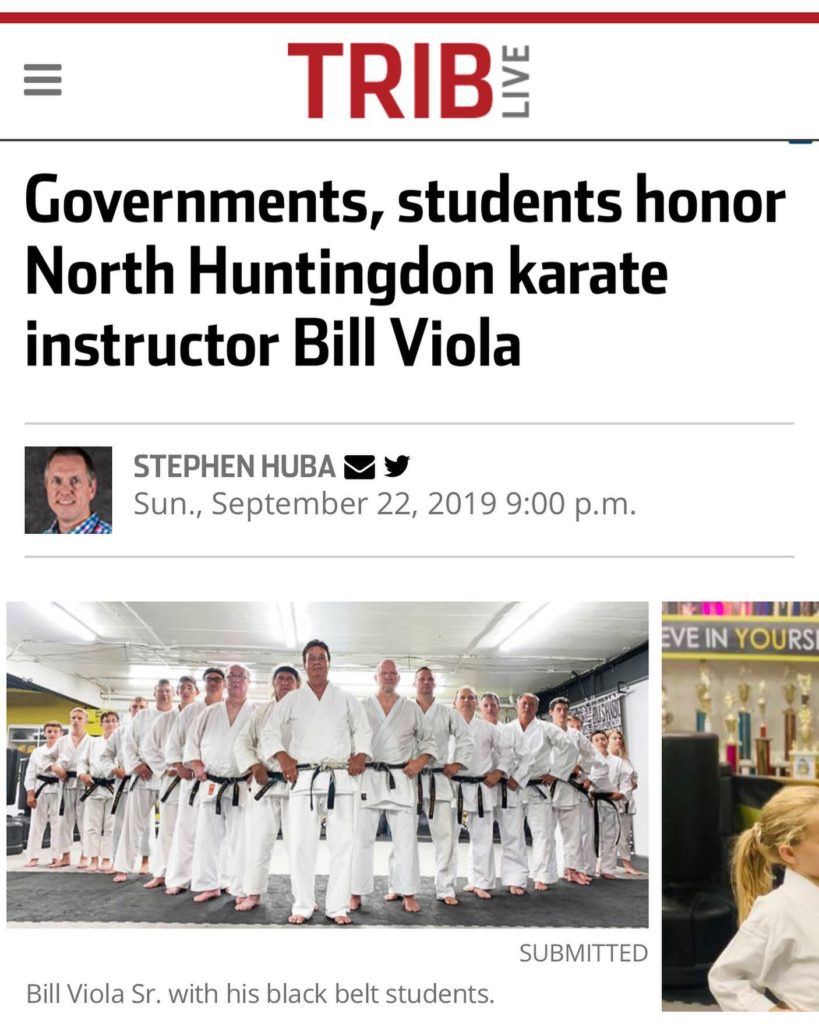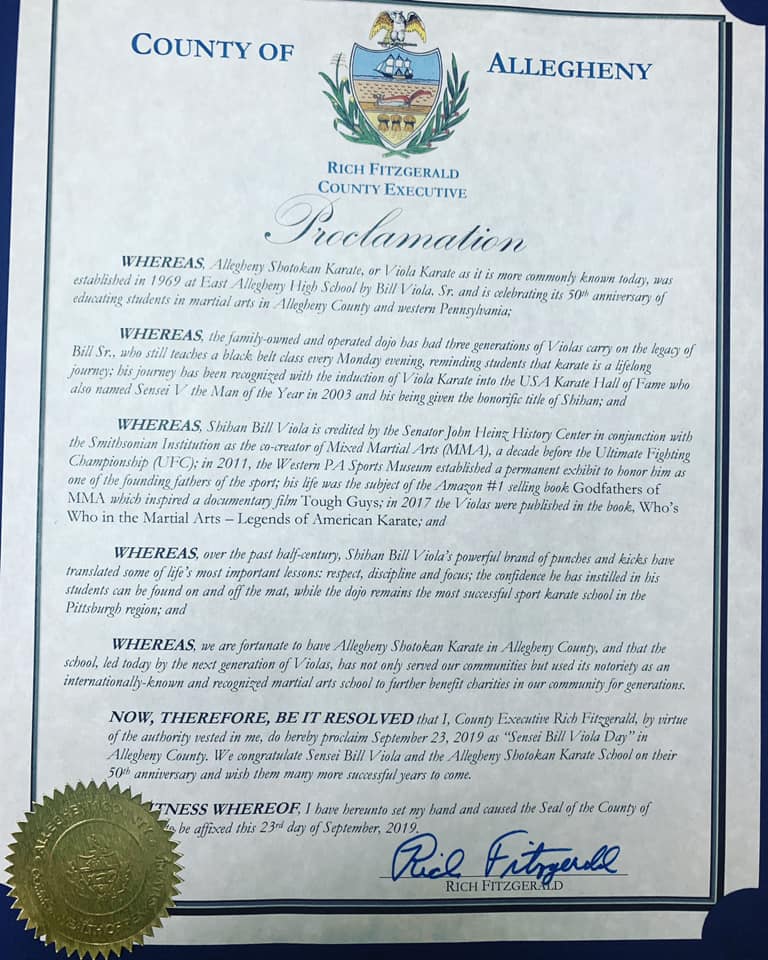 Read more about Sensei Viola Day.
NOW, THEREFORE, BE IT RESOLVED that I, County Executive Rich Fitzgerald, by virtue of the authority vested in me, do hereby proclaim September 23, 2019 as "Sensei Bill Viola Day" in Allegheny County. We congratulate Sensei Bill Viola and the Allegheny Shotokan Karate School on their 50th anniversary and wish them many more successful years to come.
IN WITNESS WHEREOF, I have hereunto set my hand and caused the Seal of the County of Allegheny to be affixed this 23rd day of September, 2019.
Hey Google, when is
Tribune Review Article:
Learning the discipline of karate requires humility, but operating a successful karate studio for 50 years requires self-confidence, self-promotion and even a certain amount of bravado.
William Viola Sr. doesn't see a contradiction between the two.
What keeps his feet on the ground are the expressions of gratitude he regularly gets from students.
"I always thought that if I could change one person … that, to me, is so much more important than papers and glittery things," he said. "When you change someone's life positively, that is more important."
Viola, 71, of North Huntingdon, has plenty of accolades on his walls but prefers to think of the tens of thousands of students who have passed through the doors of Allegheny Shotokan, now known as Viola Karate.
"I have some kids who started with me when they were 4-5 years old who are still here," he said recently.
Viola will soon be able to add proclamations from Allegheny and Westmoreland counties to his list of accomplishments. Allegheny County Executive Rich Fitzgerald has designated Monday as "Sensei Bill Viola Day."
The proclamation notes that Viola not only helped popularize karate in Western Pennsylvania but also became an advocate for the sport worldwide, leading to its acceptance as an Olympic sport in Tokyo in 2020. As co-creator of the sport of mixed martial arts, he is the subject of a book, a documentary and a museum exhibit.
On the 50th anniversary of Viola Karate, the founder said, "Nothing I did in the 1970s would work now, but the basic concepts of character and self-discipline are the same — those are the things you have to keep. Those are the building blocks."
Kick start
A native of Brownsville, Fayette County, Viola was introduced to karate in the early 1960s by "one of my friends throwing me around, knocking me down, kicking and punching me." The friend, Medick Capirano, had learned martial arts as an ROTC student at West Virginia University.
"I said, 'Geez, this is great.' … That really piqued my interest," he said.
While a student at what is now California University of Pennsylvania, Viola started giving private karate lessons to football player and friend Denny Costello. Upon graduating and accepting a teaching job at East Allegheny High School, he started an after-school karate program for adults and began teaching karate to students as an extracurricular activity.
"We were one of the first American public high schools to offer karate as an accredited course," he said.
It didn't hurt that at the time, in the late 1960s and early '70s, karate was enjoying a "golden era" courtesy of TV shows such as "The Green Hornet" and "Kung Fu."
The level of interest was high enough for Viola to open his first studio in 1969 in an old community center in Turtle Creek. He rented the space for $50 a month.
"The catch was: the furnace didn't work, we had to put buckets out because the ceiling leaked, the floors had cracks in them. I thought it was great," he said.
He later opened studios in White Oak, Irwin, Paintertown and West Newton, although he has spent the longest amount of time on U.S. Route 30 in North Huntingdon.
Viola said the secret to his success was combining his skills as a teacher — he taught science at East Allegheny for 30 years — with his love of martial arts. He still teaches a black belt class at Viola Karate every Monday night.
His first black belt student was Jack Bodell, who went on to become a Secret Service agent assigned to President Jimmy Carter's security detail. Viola is a ninth-degree black belt.
Capitalizing on the "mystique" of the martial arts, Viola taught karate as a way of life and not just as a way to break boards, kick and punch. He retained students by learning their names and something about each one of them.
"That's why I've kept so many students for so long," he said.
His longest-tenured student is Ray Adams, 76, who joined the studio in 1971 and still actively trains today. "I just earned my master rank and have no plans of slowing down," Adams said. "My next test will be in my 80s."
Getting tough
In 1980, Viola and business partner Frank Caliguiri, sitting in a Denny's in Monroeville, dreamed up the first "tough guy" contest in Western Pennsylvania. The idea was to recruit men who fancied themselves as good street fighters and put them in the ring with a referee.
The first "tough guy" contest was held March 20-22, 1980, at the New Kensington Holiday Inn, with a finals match at the Stanley Theater (now the Benedum Center for the Performing Arts) in downtown Pittsburgh.
Tough guy contests were banned in Pennsylvania in 1983. But times changed, and by 2009, the ban had been lifted. In 2011, Viola and Caliguiri were memorialized as co-creators of mixed martial arts, or MMA, in an exhibit at the Senator John Heinz History Center in the Strip District.
Viola gets a kick out of the fact that the MMA exhibit is adjacent to the one honoring Franco Harris' "Immaculate Reception" for the Pittsburgh Steelers.
In 2017, Showtime debuted the documentary "Tough Guys," which tells the story of the early tough guys contests and controversies. The documentary, which features extensive interviews with Viola and Caliguiri, was based on the 2014 book "Godfathers of MMA," written by Viola's son, Bill Viola Jr., and his cousin Fred Adams.
Viola Jr. has received the mantle from his father and now operates Viola Karate. In 2017, one of his students, 9-year-old Xander Eddy, won the gold medal in his age category at the Pan American Kickboxing Championships in Mexico.
In addition to being "Sensei Bill Viola Day," Sept. 23 is the birthday of Viola's grandson, William Viola IV, who, along with his sister, Gabby, is a fixture at the studio.
Viola also has four daughters, Joce and Jacque, who are pharmacists in North Huntingdon, Addie, a teacher in Bethel Park, and Ali, a lawyer in Pittsburgh.
Stephen Huba is a Tribune-Review staff writer. You can contact Stephen at 724-850-1280