空手 Karate Black Belt Instructors Sensei 🥋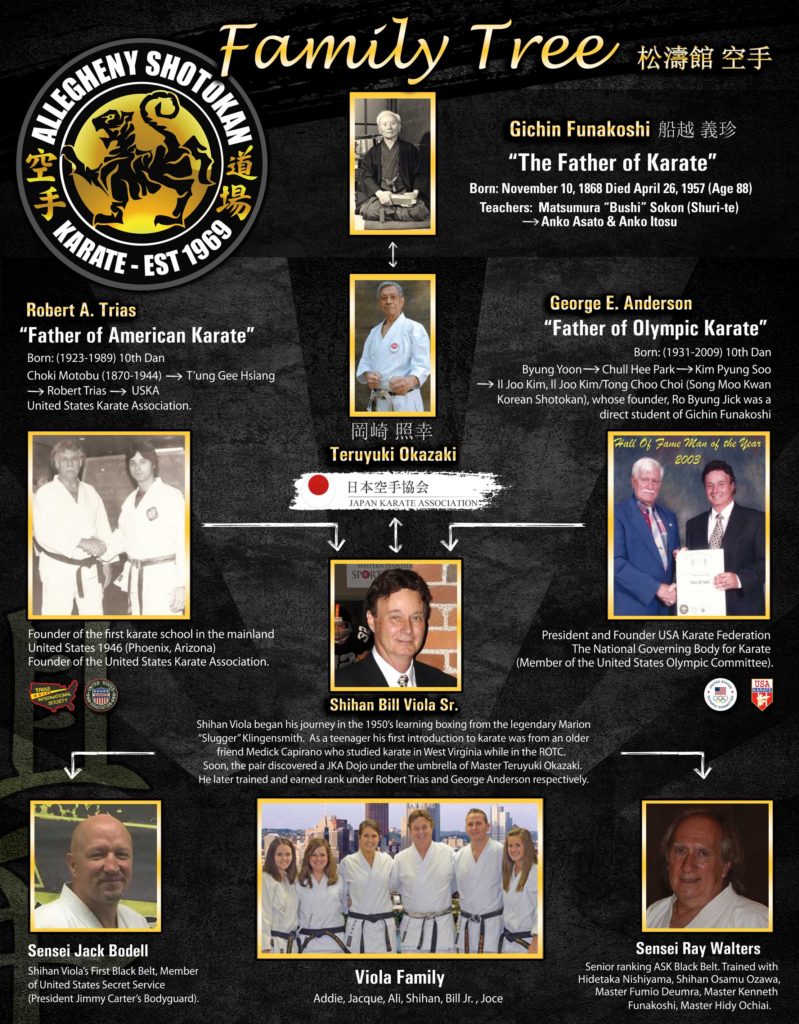 Shihan (Master) Bill Viola Sr.
Shihan is the authority on Martial Arts in the area with over 50 years experience. He is credited by the Heinz History Center in conjunction with the Smithsonian Institution as the cocreator of Mixed Martial Arts "MMA" a decade before the UFC. In 2011 the Western PA Sports Museum established a permanent exhibit to honor him as one of the founding fathers of the sport. His life is the subject of the book, "Godfathers of MMA" which is the inspiration of the film Tough Guys. Viola was inducted into the USA Karate Hall of Fame and honored as the 2003 Man of the year (Lifetime Achievement). He has had the unique opportunity to teach all of his five children martial arts and instruct all of them to black belt.
Sensei Ray Walters
Sensei Ray is a Master rank and the Senior instructor at Allegheny Shotokan. He is known as Mr. Basics "Kihon" teaching the building blocks of Shotokan Karate. His Kihon class on Saturday mornings has been a tradition for decades. Sensei Ray has had the unique opportunity to train with karate legends such as Master Hidetaka Nishiyama, Shihan Osamu Ozawa, Master Fumio Deumra, Master Kenneth Funakoshi, Master Hidy Ochiai and Bill "Superfoot" Wallace. Sensei Ray was the chief coordinator for the Laurel State Karate Championships and USA Karate Allegheny Mountain Region Trials (member of the United States Olympic Committee) for thirty years.
Sensei Bill Viola Jr
Sensei Bill (Master Rank) is the head instructor and creator of the Norwin Ninjas program. He was a USA Karate National Champion (All-American Athlete) and recognized by Arnold Schwarzenegger as a World Champion in 1998. Viola was inducted into Sport Karate Museum Hall of Fame in 2005, and in 2016 Pittsburgh Magazine named him one of the "40 under 40" most influential people in the city. Sensei Bill is an Amazon Best Selling Author, film producer and founder of the Kumite Classic. He owns and operates the Pittsburgh Fitness Expo, the regions largest multi-sport event.
Sensei Ray Adams
Sensei Ray (Master Rank) is longest tenured student at Allegheny Shotokan beginning his training in 1971. During the "old school" era of karate, Sensei Ray was an avid competitor and won many titles in kata and kumite. After a sabbatical from karate to raise his family, Sensei Ray returned to the dojo and has been an inspiration of dedication. Sensei Ray specializes in reality based self-protection (Student of Master Roger Miller). He is a renown photographer and retired teacher (East Allegheny) serving the community with his professional services since the 1960s. Sensei Ray is privileged to teach and pass his knowledge onto his grandchildren, who are members of the dojo.
Sensei Dave Zezza
Affectionately known as "Tombo" 蜻蛉 or Dragon Fly, Sensei Dave (Master Rank) is recognized for his signature headband and as head instructor of the Allegheny Shotokan Kobudo programs. Tombo is a classic example of age is just a number, beginning his martial arts journey as an adult while keeping up with the "kids" in kata, kumite, and kobudo winning numerous State Titles. He had the unique opportunity to teach his triplet daughters. Tombo is also an accomplished musician who wrote an original piece for the kata "Nijushiho." Whether its a bo staff or guitar, Tombo is hands-on!
Sensei Addie Viola
Sensei Addie is a 1998 World Champion and international champion. Sensei Addie is known for her trademark  self-defense techniques and intensity. She won The USA Karate Federation National Championships in kata and kumite and was the most feared female fighter in Pennsylvania during 1990s. Addie graduated from the University of Pittsburgh with a Masters Degree in elementary education and is a Kindergarten teacher in the Bethel Park School district. She has two children, Ella and Noah, who train at the dojo.
Sensei Arnold Mosa
In the late 1970s Sensei Arnold began training with his Uncle Tom Asmondy and Ron Shenely in Kyokushinkai Karate. During the 1980s he studied Shori-ryu with elements of Kempo, Tang Soo Do and Kobudo with Sensei Dan Kestner where he became the lead instructor of a dojo. He also cross-trained with members of Allegheny
Shotokan. In 2008 he enrolled his daughter, Marie, into Allegheny Shotokan and the two have trained side-by-side since. He continues his martial arts journey to honor his Uncle's memory. Sensei Arnold is an avid outdoors man who enjoys hunting and fishing.
Sensei Charlie Slie 
Sensei Charlie began his martial arts training in Tae Kwon Do in 1987 under Master Gene Rosky. (4th degree in TKD). After years of Korean Karate, he set his sights on studying Shotokan karate with Shihan Viola. Sensei Charlie is an original member of "Team Kumite" and champion competitor in the USKA, USAKF, PKC, NBL and NASKA circuits. He is a multiple PKRA state champion in sparring and 2002 was an alternate for the US Olympic TKD (Colorado Springs). He also has a passion for grappling and has over a decade of training in Battou Jutsu.
Sensei Dave Crissman
Sensei Dave began his karate training in 1975 at the Academy of Martial Arts under the tutelage of Master Frank Caliguri (Shihan Viola's close friend). In 1999 he moved to the Irwin area and soon joined the Allegheny Shotokan Dojo. For over thirty years, Sensei Dave has been a chief coordinator of the Pittsburgh Karate Championships, Pennsylvania Karate Championships and Laurel State Karate Championships. Sensei Dave is well versed in Okinawan Shorin-Ryu Karate and kobudo (Sai, Nunchuku, Tonfa, Bo). He enjoys teaching at the dojo with his son Dean.
Sensei Mark Lucotch
Sensei Mark has an extensive background in martial arts beginning in high school and later as a collegiate wrestler at Clarion University of Pennsylvania. He began Chinese Kenpo under Master Nick Long in 1980, followed by Isshin-ryu from 1984-1990 and then Uechi-ryu in the 1990s. In 2005 he discovered Shotokan and has been dedicated ever since. Sensei Mark has great patience teaching children, serving as a coach and boy scout leader. He is a Commercial and Life insurance specialist and also an avid outdoors-man who loves to fish and hunt.
Sensei Ali Viola
Sensei Ali Viola is a 7x World Champion in sparring who began her training as soon as she
could walk. Her tenacity and toughness made her the most dominant female continuous
fighter in the country for a decade. Ali earned a full scholarship to play soccer in college at
Youngstown State University. She studied pre-law while playing Division I sports and traveled
North America competing in karate all while maintaining a 4.0 GPA and graduating
Summa Cum Laude in 3 year, instead of 4. She is currently in Law School at Duquesne where
she is ranked at the top of her class. She is noted as the most successful female fighter in
Pittsburgh sport karate history.
Sensei Connor Burns
Sensei Connor began his training at Allegheny Shotokan when he was 7 years old. His parents thought it would be a good experience since he is half Japanese. He has gone on to be a PKRA State Champion and NBL #1 Ranked competitor in sparring. Connor is an accomplished pianist (Owner of The Piano Sensei) and Eagle Scout honored for his community service by the Tribune Review and named Pittsburgh's most "Positive Athlete" by Hines Ward in 2014. Connor is worldly, studying abroad in Europe. His most recent passion is submission
Grappling, and Brazilian Jiu-Jitsu. He studies international business at Grove City College.
Sensei Gary Klos
Sensei Gary began his martial arts journey in Aikido in 1990s. His love for martial arts was re-ignited when his son Cameron started taking classes at the age of 4. Soon Gary and Cameron were training side by side in a quest for black belt. The family bond and determination they displayed was inspiring. They are the only father / son duo in Allegheny Shotokan history to test and earn black belts on the same day. Sensei Gary has excelled as a motivator and assistant coach for "Team Kumite." He is a certified judge, referee and tournament coordinator. Sensei Gary works for US Steel.
Sensei Cameron Klos
Sensei "Cam" (Norwin Class of 2019) is a true role model of dedication. He began his martial arts jouney at the age of 4 and has never looked back. He is typically the first student to enter the dojo and the last student to leave. He is one of most consistent competitors on the circuit excelling in both traditional (USA-NKF) and Open (NBL/NASKA) tournaments. In 2015 he won the Shotokan Grand Championship at the Kumite Classic. Sensei Cam is an honor student who loves Comicon and computer technology.
Sensei Tim Meyer 
Sensei Tim grew up with Sensei Bill and was encouraged to train in the late 1990s. Soon he became a top  competitor in Pennsylvania and went on to win USA Karate National Championship and PKRA State Champion in kata, kumite, and Kobudo. Sensei Tim has a fondness for traditional kumite and has served as the "Kata Class" instructor where his no-nonsense style of teaching is appreciated by the students. Sensei Tim is the founder of Fireball Designs, a company that showcases his artistic abilities.
Sensei Sara Russell
Sensei Sara (Norwin Class of 2019) is a 2x World Champion in sparring and consistently is recognized as one of the top female fighters in the nation. Sara began training as a Ninja when she was 4 years old. She has been one of the most active competitors on "Team Kumite" and now shares that experience with new up and coming team members. Sara is an elite softball player who represents numerous all-star teams and is currently being recruited by a number of universities to play college ball.
Sensei Nick Kosan
Sensei Nick (Penn Trafford Class of 2018) is what we call a "Silent Warrior," he lets his fighting do the talking. He has had great success on the tournament circuit competing at the World Games and winning national titles at the Kumite Classic. He began his studies in Seidokan karate and then obtained his black belt in Shotokan. His calm and confident approach to teaching has earned the respect of all his fellow instructors. Nick is a multitalented athlete with a passion for jiujitsu and grappling as a wrestler for Penn-Trafford High school.  He currently a Student at the University of Pittsburgh.
Sensei Marie Mosa
Sensei Marie (Norwin Class of 2019) is a legacy, as her father is a black belt at Allegheny Shotokan. She carries on the tradition as fierce fighter and talent karate-ka. She began training in 2009. Sensei Marie is a member of "Team Kumite" and has excelled at regional and national championships. She teaches with attention to detail and a focus on proper kihon. Sensei Marie is also a varsity track athlete at Norwin.
Sensei Rachel Bartuska
Sensei Rachel (Norwin Class of 2018) began her martial arts journey in 2007 studying Seidokan Karate. In 2009, she joined Allegheny Shotokan and quickly made the "Team Kumite" roster. She has been an active competitor and champion in kata and kumite. She is one of the most determined students at the dojo, revered for her intensity and fearless approach to kumite. Rachel serves in multiple leadership positions: Mellophone Section Leader in marching band and President of Science Challenge Squad. She also plays french horn in concert band and recently completed her Girl Scout Gold Award for community service.
Sensei Clay Johnson
Sensei Clay began his martial arts journey in the art of Tang Soo Do earning an advanced rank. In the late 1980s he trained at Practical Fighting Concepts under Coach Eric Hibler (a well known Professional mixed martial artist) where he studied Muay Thai, boxing and grappling. He also cross-trained at Cambria Martial Arts in Kenpo. In 2008 he joined Allegheny Shotokan and earned his black belt after a long journey in 2015. Sensei Clay is a graduate of the University of Pittsburgh and now serves as the Executive Recruiter for Clifton Johnson Associates, Inc. He has the privilege to train his son, Cameron, at the dojo.
Sensei Eddie Boot
Sensei Luke Lokay
Sensei Gavin Hladek
Sensei Brady Johnson
Sensei Noah Mulac
Sensei Dean Crissman
Sensei Zach Farroux
Sensei Gabe Anthony
Sensei Owen Orth
Sensei Stephen Jackowski
Sensei Matt Morrow