NASKA World Champions
The North American Sport Karate Association (NASKA) sanctions the most prestigious karate tournaments in the country and abroad. For the last thirty years, the league has tracked and ranked competitors throughout the tournament season to determine the World Tour Champions. The ratings are compiled annually, with the highest point total determining who earns the World Championship Belt and ring.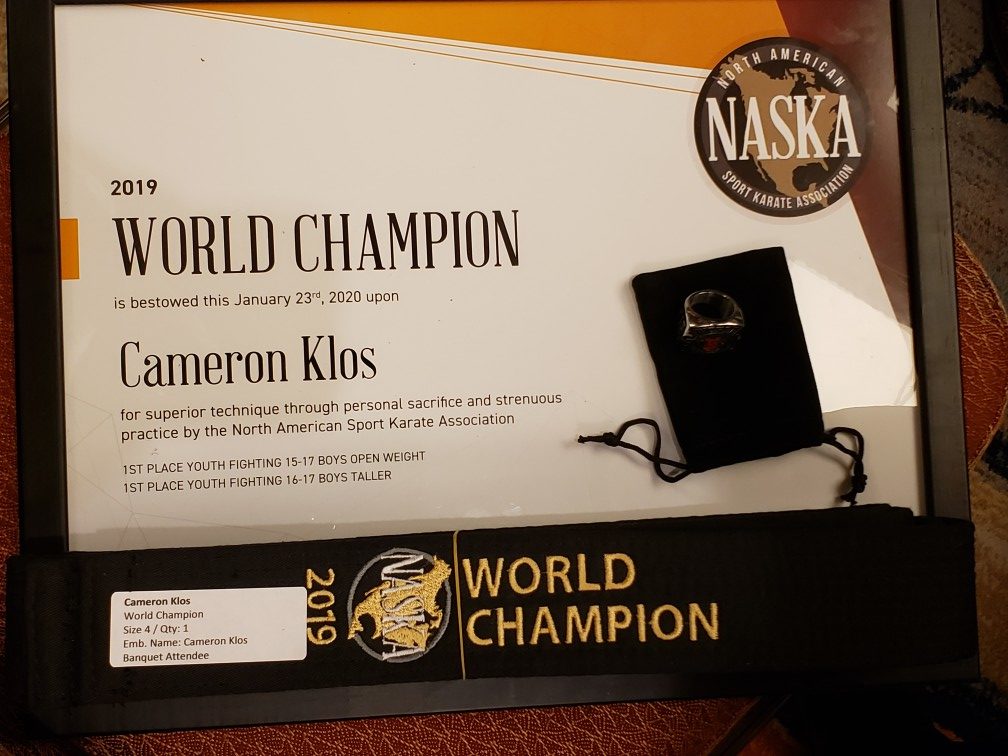 North Huntingdon residents Xander Eddy (10 years old), Luke Lokay (16 years old), and Cameron Klos (17 years old) became the first Western Pennsylvania martial artists to win a NASKA title since their Coach, Bill Viola Jr. and his sister Addie were ranked #1 in NASKA in the 1980s.
Sensei Bill Viola Jr. said, "I am so happy to pass the torch to these kids. They are an inspiration to this community and a testimony of hard work and dedication. They made all of Norwin and Pittsburgh proud."
The 2019 World Championship awards were presented at the AKA Warrior Cup in Chicago, Illinois. It is the longest running tournament in America founded in 1964. The tourney hosted the NASKA Banquet on Thursday January 23rd 2020. NASKA President Larry Carnahan from Minneapolis, MN presided over the ceremony in which the three Western Pennsylvanian black belts earned #1 rankings and World Titles for their age categories.
NASKA World Tour Champions:
10-year-old Xander Eddy World Champion (10- Open Weight and 10- Black Belt)
16-year-old Luke Lokay World Champion (16-17 Light Weight Black Belt Sparring)
17-year-old, Cameron Klos World Champion (15-17 Open Weight
16-17 Heavy Weight black belt sparring
The trio are members of Allegheny Shotokan "Viola" Karate Dojo which recently celebrated it's 50 Year Anniversary proclaimed by County Executive Rich Fitzgerald as "Sensei Viola Day" on September 23rd 2019 for the Pittsburgh region.
Xander, Luke, and Cameron traveled to Illinois, California, Georgia, Florida, Michigan, New York, West Virginia, Ohio, New Jersey and Canada to compete during the season. The honor is based on an entire year's body of work.
Pittsburgh Post Gazette:
https://www.post-gazette.com/local/region/2019/09/26/Bill-Viola-Sr-Allegheny-Shotokan-Karate/stories/201909260004
Pittsburgh Tribune Review:
https://triblive.com/local/westmoreland/governments-students-honor-north-huntingdon-karate-instructor-bill-viola/
The team is gearing up for the 2020 WKC World Championships held in Madrid, Spain and fundraising to visit Tokyo, Japan and attend the 2020 Olympics.
For more information visit www.alleghenyshotokan.com