Olympic Aspirations Hit Home in North Huntingdon 🥇🥋
Karate made its Olympic debut last week in Tokyo, Japan the birthplace of the sport, but for one local dojo it's been a long time coming. Students filled the parking lot of Allegheny Shotokan "Viola Karate" in North Huntingdon to watch the games live on a 20 ft. screen like a drive-in movie theater. While Judo and Tae Kwon Do have been part of the Olympic program for years, this the first time in history for karate. The event was special for Bill Viola Jr. and his father Bill Viola Sr. who have been dreaming of an Olympic berth since the 1980s. Viola Sr. helped spearhead the grassroots Olympic movement in Pennsylvania decades before. Viola Jr. said, "It's taken over 40 years for Karate to make its way to the Games, and we've been cheering every step of the way."
The Viola's have been instrumental in the sports development and were part of a big push to get karate included in the Pan-American Games in 1999. Doug Selchan, a member of Team USA, began his training with Sensei Viola and was able to win a Gold Medal at karate's PAN-AM debut in Winnipeg, Canada. Sensei George E. Anderson was responsible for getting the Olympic Karate movement started in the United States, and he enlisted Sensei Viola to oversee Pennsylvania and help coordinate national events for USA Karate. The USA Karate Federation (USAKF) was the National Governing Body for Karate from 1985-1995 in the United States and member of the US Olympic Committee. In 1986 Viola was appointed Regional Administrator for the USA Karate Federation and promoted the Allegheny Mountain Championships, a qualifier for the USA National Championships. In 1992 Viola hosted the USA Karate Junior Olympics at the University of Pittsburgh Field House. Viola's tournament experience lead him to be named to the USA Karate Organizing Committee, responsible for coordination of the USA Karate National Championships. Today that group has transformed into the USA-National Karate Federation (USANKF) under the banner of the World Karate Federation (WKF) which oversees Olympic karate. On March 9, 2019 Viola Sr. was inducted into the USA Karate Hall of Fame as a "Pioneer of USA Karate" specifically for his contributions to the Olympic karate movement.
Viola Jr. was a multiple time USA Karate National Champion and Team USA Member. He has since passed the torch to his students, namely his daughter Gabby. At just 10-years-old, she is highly accomplished already winning Gold at the WKC National Championships and earning a spot on WKC Team USA. She has been recognized as a 5x State Champion and currently ranked #2 in North America by North American Karate Association (NASKA). This month Black Belt Magazine published her as "Top 5 Female" competitors in the country. At the 2021 US Open in Florida she was awarded Competitor of the Year" by Point Fighter Live. The honor, dubbed as a "Power Award" was voted on by coaches, competitors, and promoters from across North America. After a nationwide poll, Viola not only won her category (edging out a talented competitor from El Paso, Texas) but was the highest vote getter of the show. However, her biggest inspiration is training with the best athletes in the world, including the first Olympic champion in karate history. Six-time defending European Champion Sandra Sánchez of Spain became the first-ever Gold Medalist in the sport on August 5th 2021. Gabby has had the rare opportunity train with Sandra, and that experience has left a lasting impact. She even named her special edition Olympic Barbie "Sandra," touting it as she claimed Olympic glory.
As for the United States, they won their first-ever and "only" karate medal of the games when Ariel Torres secured bronze for Team USA in kata. Torres, from Hialeah Florida, works with 20-year-old Viola Karate student Cameron Klos. Torres is like a big brother to Cameron, mentoring him in the ways of International Competition. Klos a student at Saint Vincent University, is a 2020 North American Sport Karate (NASKA) World Champion, WKC Team USA Member, and Kumite Classic Champion. He travels to train with Ariel and studies remotely via Zoom weekly with him for private lessons. Ariel is preparing Cameron for a bid to make the USA Karate National Team. The same team Ariel represents and competed for in the Olympics.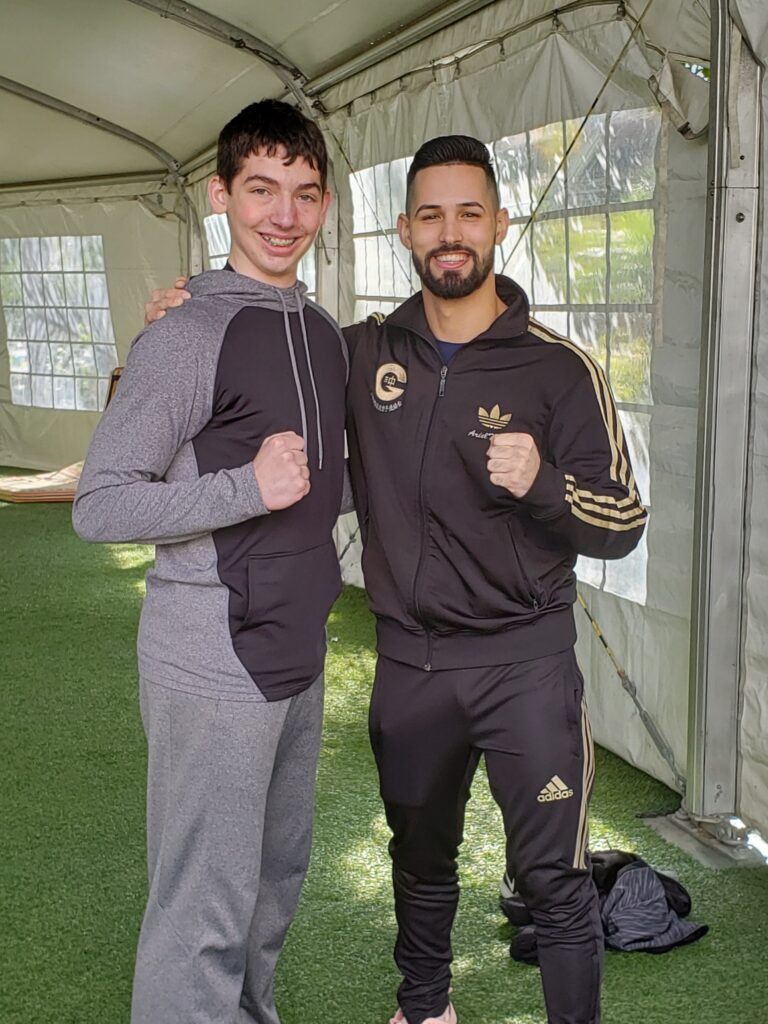 Sensei Bill Viola Sr. says, "I've trained thousands of students, many who have had Olympic aspirations and skill. It was satisfying to see the Olympics on television, knowing my students have personal connections to these champions. I know all the hard work has finally paid off." Viola Karate has been serving Western Pennsylvania since 1969 and is a member of the USA-NKF under the auspices of the United States Olympic Committee. Their sister program is the award-winning Norwin Ninjas.