Pittsburgh area Team Kumite headquartered at Allegheny Shotokan Karate Dojo earns World Titles.
SAINT VINCENT STUDENT KICKS HIS WAY TO A WORLD KARATE TITLE
The World Karate and Kickboxing Commission (WKC) hosted the 2021 World Championships November, 23rd-30th in Orlando, Florida. The weeklong event hosted the world's best in WKC Tatami-style martial arts competition. Pittsburgh based Allegheny Shotokan "Viola" Karate Dojo earned over 20 medals, including top honors from 20-year-old St. Vincent student Cameron Klos, who was recognized as the overall "Grand Champion."

Team USA is comprised of 300 athletes from across the country who won the National Team trials in Detroit this past June. Twelve members from Allegheny Shotokan "Viola" Karate Dojo earned positions to represent the United States at the World Championships. Of that group, ten students advanced to the medal rounds and stood on the podium. Sensei (coach) Bill Viola Jr. said, "It is so amazing to see our athletes represent Western PA on an international level. When they play the star spangled banner for one our students, it's a special moment. Cameron is leading by example."
Medaling for Team USA representing Western Pennsylvania
 11-year old Gabby Viola, Gold (female -40kg sparring) Bronze (classical kata)
 12-year-old Xander Eddy, Gold (male -40kg kickboxing) Gold (classical kata) Gold (Traditional Kata) Bronze (male -40kg sparring)
 12-year-old Zoey Bostard Bronze (50+kg sparring) Bronze (50+kg kickboxing)
 12-year-old Rayden Galley Finalist (50+kg sparring and kata)
 14-year-old Riley Evans Bronze (-45kg sparring) Bronze (-45kg kickboxing)
 14-year-old Sammy Pietrzyk, Gold (55+kg female kickboxing team) Gold (55+kg female sparring) Gold
(female team sparring)
 14-year old Kaleb Knock Silver (-55 kg kickboxing) Bronze (-55kg sparring) Bronze (traditional kata)
 15-year-old Austin Hladek, Gold (classical Kata), Gold (traditional Kata), Gold (Weapons), Bronze
(sparring)
 15-year-old Lucy Lokay Bronze (65kg sparring)
 18-year-old Gavin Hladek Finalist (kata & weapons)
 19-year-old Luke Lokay Silver (75kg sparring)
 20-year-old, Cameron Klos, Gold (traditional kata), Silver (classical kata), Silver (synchronized forms),
Bronze (-85 KG sparring) Gold 18+ overall Forms/Weapons Grand Champion
The highlight of the week was Cameron Klos earning top honors in the Adult Black Belt Overall Finals. Klos earned a spot to compete by winning gold for his traditional kata (pattern) during elimination rounds. The finals pitted gold medal winners and elite athletes in various disciplines to determine the "best of the best." The final four international champions represented Canada, Guatemala, Venezuela, and Klos for the United States. In the end, Klos was named Grand Champion of the WKC.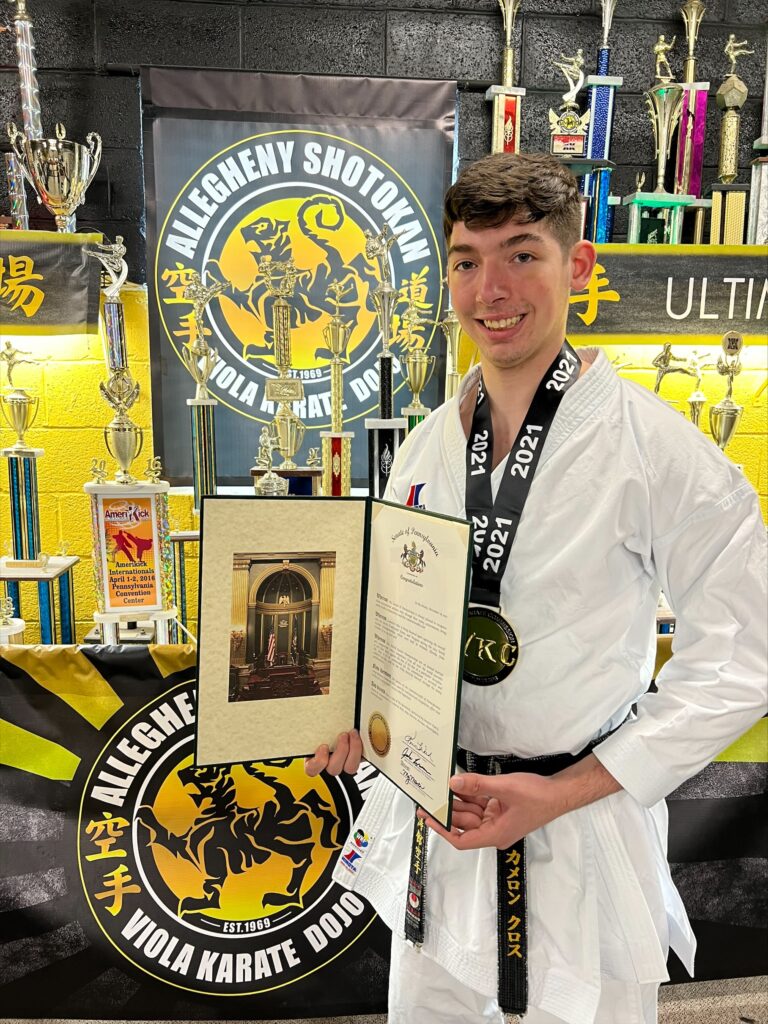 Senator Kim Ward presented Cameron with a proclamation for his victory upon his return to Pittsburgh. He will perform for the County Commissioners at the Greensburg Courthouse of December 16th.
Klos, a Cyber Security major at St. Vincent College, holds a 4.0 GPA. Sensei Viola Jr. says, "It takes a special kind of work ethic to juggle an international karate schedule and remain at the top of his class in college. Cameron personifies dedication. His is earning a 'black belt in life'."
The 2022 WKC World Championships will be held in Dublin, Ireland. The team will be fundraising throughout the year to attend and defend their titles. For more information visit www.alleghenyshotokan.com