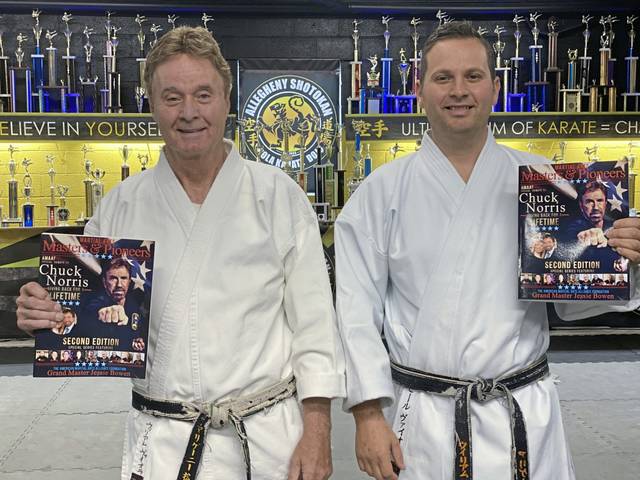 Father and son will be honored together for their contributions to karate in a virtual awards ceremony Saturday.
Bill Viola Sr. and Bill Viola Jr. are inductees into the 2020 American Martial Arts Alliance's Who's Who Legends Hall of Honors with martial arts legend Chuck Norris.
They also are featured in the 2020 edition of the Chuck Norris Who's Who in the Martial Arts Masters & Pioneers biography book that celebrates the history and tradition of many of the arts' top names.
"It's a huge accomplishment for an individual, but having us both recognized as pioneers is something special," Viola Sr. said. "Karate is our way of life."
Viola Sr., one of the most recognizable names in the karate industry, was honored by Allegheny County on Sept. 23 with "Sensei Viola Day" to mark the 50-year anniversary of him founding Allegheny Shotokan Karate in North Huntingdon.
Recognized as a founding father of modern mixed martial arts, the USA Karate Hall of Fame member's life is the subject of the books "Godfathers of MMA" and "Tough Guys," which inspired the Showtime "Tough Guys" film in 2017.
The Western Pennsylvania Sports Museum at the Heinz History Center in Pittsburgh opened an exhibit in 2011 on the roots of mixed martial arts that included memorabilia from Viola Sr., fellow area promoter Frank Caliguri, a Lower Burrell resident, and others in the sport.
Caliguri was recognized by the AMAA Foundation in June as a Hall of Honor award recipient and also is included in the Who's Who book.
Sensei Bill Viola Jr. wears many hats in the martial arts world: author, instructor, international competition champion and fitness promoter.
A producer on the "Tough Guys" film, Viola Jr. is set to release a book series, "Common Sensei," in 2021 that shares his perspective on how one can do various things to have a rich and meaningful life experience.
A USA Karate national champion, he was recognized by Arnold Schwarzenegger as a world champion in 1998.
"This is the first time we've been honored and featured together in the same book as father-son pioneers," said Viola Jr., the founder of the Norwin Ninjas martial arts program and the annual Kumite Classic and Pittsburgh Fitness Expo, the region's largest multisport event.
"We both have our individual accomplishments. I have always been inspired to follow in my dad's footsteps and do some of the great things he has done. This just came to pass where we were able to be honored collectively, and that's what makes this so special."
The coronavirus pandemic changed the Who's Who ceremony and conference to an online virtual presentation. It will be the official public release of the book.
The conference will feature online seminars and martial arts demonstrations in addition to honoring Norris and the Violas.
"The pandemic has changed the structure of everything in life," Viola Jr. said.
"So instead of being able to travel down to Texas for the physical presentation, we're going to do a virtual book launch and roundtable-type discussions with pioneers and other people in the industry. That's the best solution we can come up with given the current state of affairs."
The event also will be an opportunity to raise money for The Kickstart Kids, Norris' in-school character development program that uses karate to teach life lessons and values to students in middle school and high school.
Norris started the program in 1990 with the help of then-President George H.W. Bush.
"It is such a great nonprofit that is helping a lot of kids throughout the country," Viola Jr. said.
The virtual conference is an all-day event, and the Hall of Honors ceremony will be at 6 p.m. All of the day's festivities can be viewed at whoswhointhemartialarts.com.
"It still will be a great chance to get the book out to the public and have fans and martial artists alike be able to tune in and be a part of the celebration," Viola Jr. said.
Michael Love is a Tribune-Review staff writer.
Tribune Review
For more information on the Chuck Norris Hall of Honors visit Kumite Classic