Karate Classes in North Huntingdon and Irwin Area
Norwin Ninjas is the most dynamic martial arts karate program for kids in the Pittsburgh region (North Huntingdon / Irwin) Area serving the Westmoreland and Allegheny County for over 50 years. Classes are offered for children 2-3 years old, 4-5 years old, 6-7 years old, 8-12 years old, teens and adults. Head instructor Bill Viola Sr. (9th Dan) and his son Bill Viola Jr. are internationally renown for their teaching skills. Don't settle for imitations, visit our dojo for a free trial lesson. Our Classes feature the exclusive SenseiSays® life skills curriculum. Visit our location in the suburbs of Pittsburgh located on Route 30 for the best kids martial arts and karate lessons, classes, and program.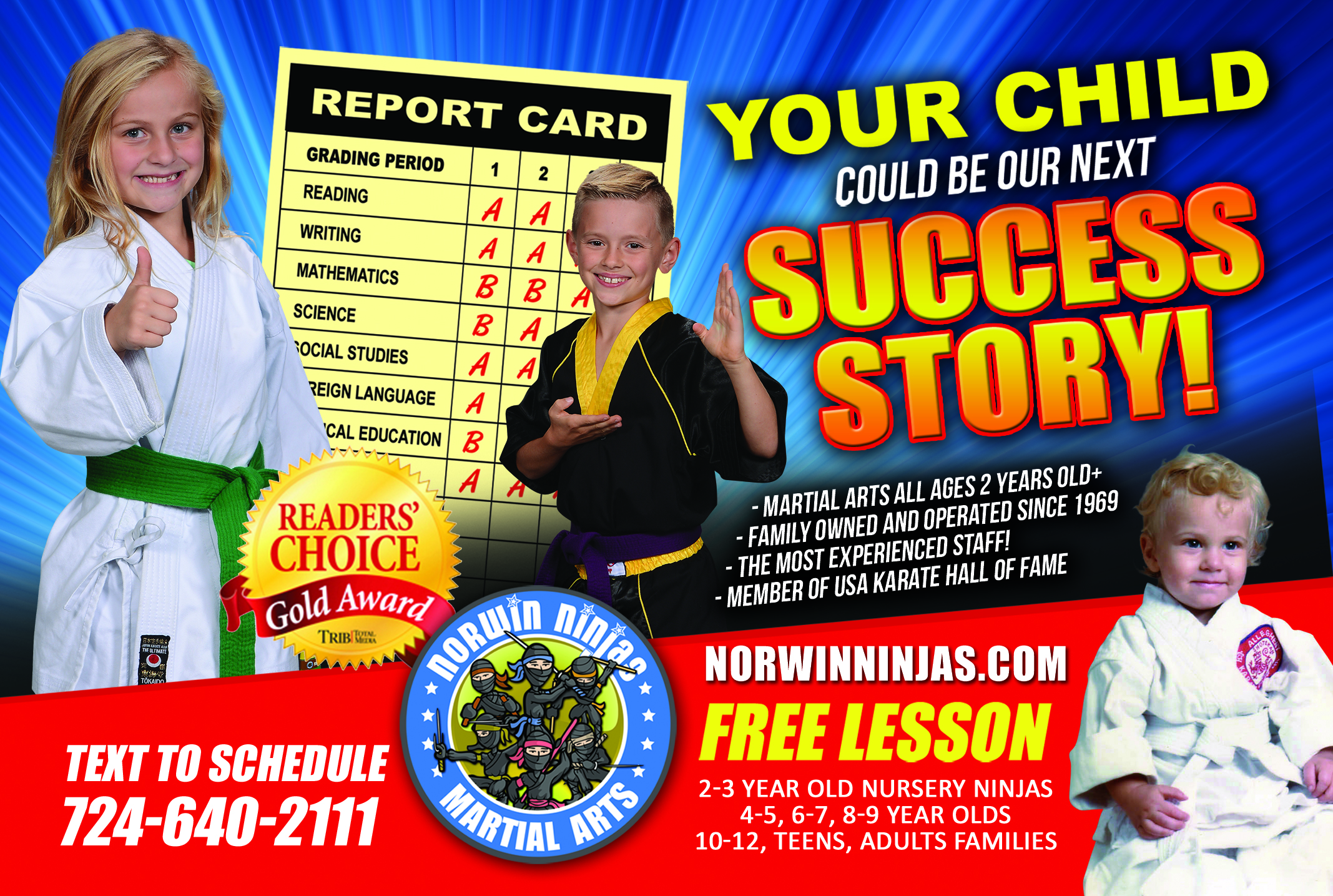 The North Huntingdon based Norwin Ninjas is an award-winning martial arts program developed by the Allegheny Shotokan Karate Club and Viola family. The school has been family owned and operated since 1969. Certified karate instruction and classes for kids with the instructors and experience you can trust.
Allegheny Shotokan "Viola" Karate School (ASK) was established in 1969 by Shihan (Master) Bill Viola. Allegheny Shotokan has a rich tradition serving Pittsburgh and Western Pennsylvania celebrating 50 years in 2019. The karate school is family owned and community based, as the oldest and most established school in the Irwin North Huntingdon area. The Viola Family are internationally renown coaches & instructors with experience you can trust! Shihan Viola Sr. (9th Dan) is the authority on Martial Arts in the area with over 60 years experience. He is credited by the Heinz History Center in conjunction with the Smithsonian Institution as the co-creator of Mixed Martial Arts "MMA" a decade before the Ultimate Fighting Championship UFC. In 2011 the Western PA Sports Museum established a permanent exhibit to honor him as one of the founding fathers of the sport. (It is located right next to Franco Harris's immaculate reception statute).
His life is the subject of the book, "Godfathers of MMA" which is the inspiration of the film Showtime Film "Tough Guys." He has had the unique opportunity to teach all of his five children martial arts and instruct all of them to black belt.